Hey!
This is me and my family... TRYING to get those "perfect family" pictures for the christmas card. Its unbelievabley hard, but look, we got one!
I do want to have this image, it is nice to prove we were all together looking at the camera at the same time once. I am glad to have it. Its also one of the only times I am ever IN THE PICTURE. Proof that I was part of my own family.
But, you know what? This isn't the image my heart leaps at. This isn't the picture shows what we are like in real life.
In real life my, when we shot this image, my husband was in the middle of chemotherapy, he felt terrible most of the time. I was struggling just to make sure everyone was taken care of, and the kids were each going through their own struggles and our family struggle to adjust to "daddy being sick all the time".
The image that makes me laugh out loud and recognize our struggles and triumphs?
My son was done holding it together and was beginning a huge tantrum, I was trying to make the best of it and prompted the rest of us to pull our hair out too, because that is what family portraits make you want to do. Pull your hair out!
The pressure to look good, be perfect, make your kids behave. Ugh. It's exhausting.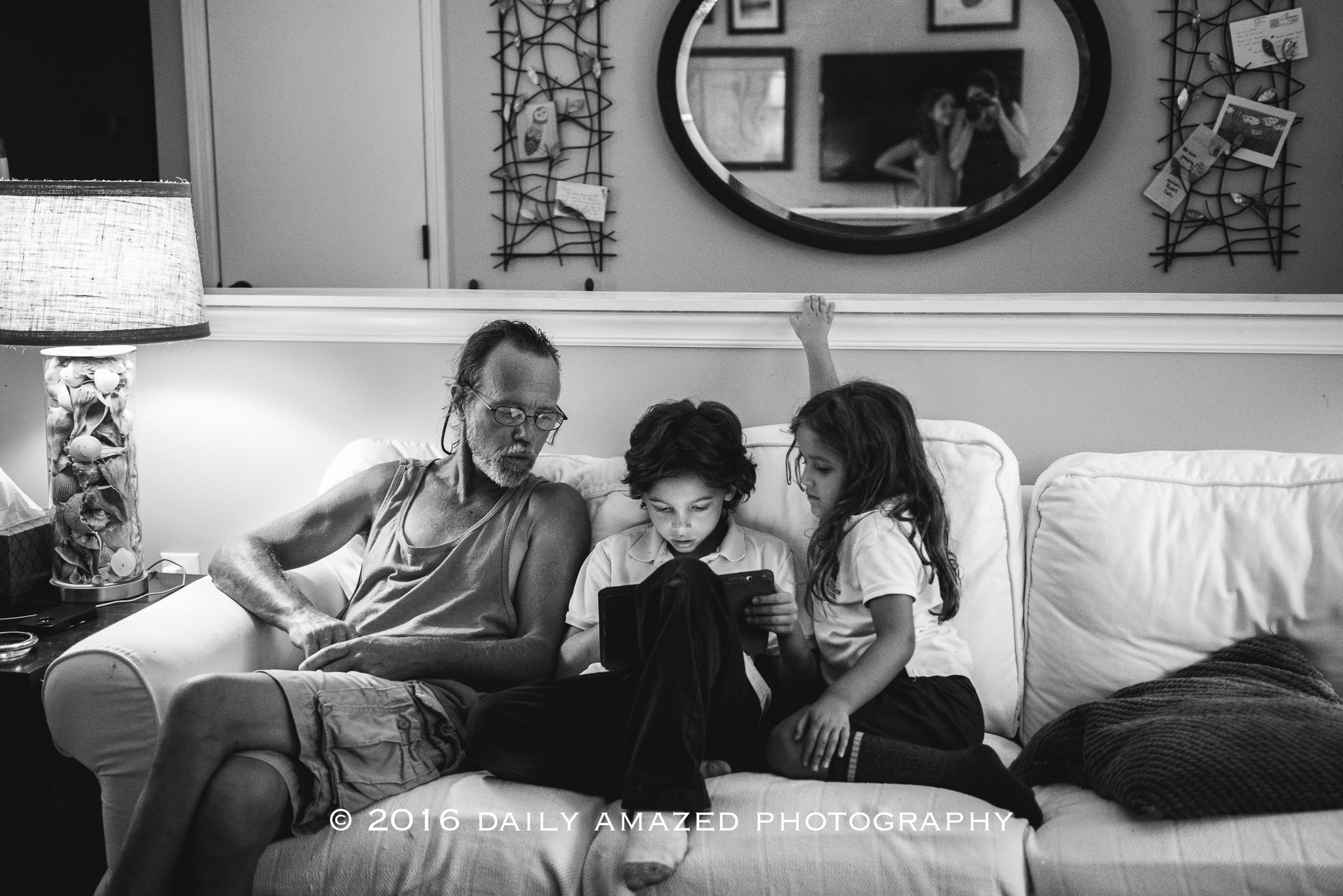 This is us. The real us.
I am taking pictures. The kids snuggling up to their dad on the sofa because that is where he sits when he's sick from the Chemo. The ipad that is the center of that boys universe at 9 yrs old. Little sis on his shoulder, big sis on mine. Get well cards on the wall. No one smiling for the camera. This is the family photo that is really us, as we are.
And then this. All the little moments.
Over the last years as my kids have grown (now they are 12, 10, and 7) I have watched as they evolved yearly, sometimes daily. In and out of grades and friends and interests. Just growing. We moved here ,to Oak Island, before my youngest was born. Its a place that changes with the seasons and the tides. Every trip down to the shore with the kids is a different experience. That is what we love about it. That is why I love to capture it. All of it. The moments that take you back to memories. This is my gift to my family. I hope these images are a treasure for my kids when they grow up.